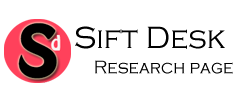 Journal of Anesthesia & Surgery
Journal of Anesthesia & Surgery(JAS-SDRP)
ISSN: 2473-2184
Impact Factor: 0.643
Description
The SDRP Journal of Anesthesia and Surgery publishes a wide range of articles in the discipline of anesthesiology including basic science, translational medicine, education, and clinical research to develop a unique platform for the authors and to encourage their contribution towards the field without any barriers of subscription and language.
Anesthesia is an integral and important part of any major surgical procedure. With time and gained knowledge this term has become a sub discipline of medical science. Established medical guidelines are available for local and general anesthesia. Various factors are important during application of anesthesia protocol where patient's age, exact disease condition etc. should be considered with care.
• Analgesics
• Anesthesia Management
• Anesthesia: Complications & Awareness
• Anesthetics Pharmacology
• Animal Surgery
• Brain Death
• Cardio Thoracic Anesthesia
• Colorectal Surgery
• Cardiac Surgery
• Critical Care Medicine
• Critical/Intensive Care Of Trauma Patients
• Endocrine Surgery
• Fluid Therapy, Transfusion & Coagulopathy
• Fluid, Electrolyte & Acid Base Disorders
• Laparoscopic Surgery
• Local Anesthetics
• Monitoring In Anesthesia
• Neurosurgical Anesthesia
• Ophthalmologic Surgery
• Pain Management Anesthesia
• Pediatric & Geriatric Anesthesia
• Pharmacokinetics
• Plastic Surgery
• Post-Anesthesia Care Unit
• Postoperative Pain Management
• Preoperative Evaluation & Anesthesia Risk
• Reconstructive & Anesthetic Surgery
• Regional Anesthesia & Nerve Block
• Rheumatology & Surgery
• Sedatives
• Surgery In Otolaryngology
• Surgical Oncology
• Thoracic Surgery
• Trauma Radiology & Surgery
• Trauma Resuscitation & Hemorrhage Control
SDRP Journal of Anesthesia & Surgery is using Editorial Manager System for quality in review process. Review processing is performed by the editorial board members of Journal of Anesthesia & Surgery or outside experts; at least two independent reviewers approval followed by editors approval is required for acceptance of any citable manuscript.


CONTACT US
Sift Desk Journals,
80 Maiden Lane,
Floor Water Street Corridor,
New York, NY 10038