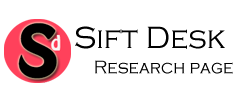 Journal of Food Science & Technology
ISSN: 2472-6419
Associate Professor., Department of Food Science and Technology, The Ohio State University, USA
Vice President (Agriculture R&D), Edenworks Inc. 3rd Floor, 234 Johnson Avenue, Brooklyn 11206 NY
Universidade Estadual da Paraíba, Pró-Reitoria de Pós-Graduação e Pesquisa, Coordenação do Curso de Pós-Graduação em Química, Rua: das Baraúnas, 351. Campus Universitário. Bairro: Bodocongó. CEP: 58.109-790. Campina Grande-PB, Brazil.
Associate Professor., Food Safety & Microbiology, Dept. of Food Science & Human Nutrition, Iowa State University, USA
University of Alberta 3-60C South, Academic Building, Edmonton AB, Canada T6G 2G7
Department of Biochemistry and Molecular Biology, University of Rajshahi, Rajshahi-6205, Bangladesh
Department of Nutrition and Dietetics, Faculty of Medicine& Health Sciences, University Putra Malaysia, Serdang Selangor, Malaysia
Dept. of Biochemistry & Molecular Biology, Hajee Mohammad Danesh Science & Technology University, Bangladesh
Fisheries & Marine Resources Department, Agriculture College,Basrah University, Iraq.
Assistant professor of Food Chemistry, University of Messina Biomorf Department PanLab V.le Annunziata, 98168- Messina
Deputy Chief Veterinary Officer Department of Veterinary & Animal Sciences, University of Rajshahi, Bangladesh & General Secretary, Bangladesh Livestock Society (BLS) Secretary SHUJON,(Rajshahi Metropolitan) Home: 605, Laxmipur Heart Foundation Road, Rajpara, Rajshahi-6000, Bangladesh
Helpful Links
CONTACT US
Sift Desk Journals,
80 Maiden Lane,
Floor Water Street Corridor,
New York, NY 10038
Call Us:
+1 6469050407